Custom Mini European Game Cards 44mm X 67mm
See how we're going more environmentally friendly »
Quantity
Price/deck

No set-up charge

1-5
$8.00
$17.00
$11.15
$26.25
$32.45
$23.15
$13.90
$20.10
6-29
$6.70
$14.70
$9.30
$23.15
$28.55
$20.50
$11.60
$17.60
30-49
$5.00
$11.15
$6.95
$17.35
$21.45
$15.40
$9.55
$13.15
50-99
$4.70
$9.80
$6.40
$15.30
$18.85
$13.65
$7.95
$11.55
100-249
$3.75
$7.75
$5.10
$12.10
$15.10
$10.95
$6.35
$9.25
250-499
$2.85
$6.30
$3.95
$9.95
$12.40
$8.90
$4.90
$7.50
500-999
$2.20
$4.50
$2.90
$7.10
$8.95
$6.40
$3.60
$5.40
1000-2499
$1.65
$3.30
$2.20
$5.35
$6.65
$4.75
$2.70
$4.00
2500-4999
$1.15
$2.60
$1.60
$4.20
$5.20
$3.70
$2.00
$3.15
5000+
$0.90
$2.00
$1.45
$3.30
$4.10
$2.90
$1.60
$2.45
Need 2500+ decks with different designs or a specific customization?
Contact us for quote
Applies to duplicate decks
See delivery options »
Specifications:
Type: Mini European sized playing cards
Number of cards per deck: from 18 up to 252
Customization: Each card can be customized individually both front and back as required.
Dimensions: 44mm x 67mm, 1.73" x 2.64"
Material: [see details]

S27 (FSC-certified) promotional card stock with blue core (smooth finish)
S30 (FSC-certified) professional standard card stock with blue core (smooth finish)
S33 superior smooth card stock with black core (smooth finish)
M31 casino quality card stock with black core (linen finish)
M32 master quality card stock with black core (linen air finish) - Minimum order quantity of 1000 required for this option
P10 100% premium white plastic card stock

Printing options: [see details]

Full color print
Holographic (front)

Finish: [see details]

MPC card finish
Gloss finish

Packaging options (per deck):

Shrink-wrapped (default)
Plain white tuck box
Window tuck box - Note: The front of the first card will be the side that is displayed through the window of the tuck box.
Plain/custom rigid box (uses 100% recycled chipboard)
Custom tuck box

Finishing: [see details]
T30 UV coated (gloss)
T30 Aqueous (matte)
T25 100% recycled, Aqueous (matte)
Options and effects: [view box effects]
Full color print
High gloss
Embossing
Gold stamped
Box seals:
MPC standard seal
Custom seal
Custom gold seal

Delivery packaging: card deck individually shrink-wrapped if no box is chosen. Card band used for cards if plastic or tin box chosen. If tuck boxes are chosen, they will be shrink-wrapped. Uncut sheets are rolled up and put into a hardened tube.
No minimum order required. Buy 1 deck for

$13.90
Image file tips:
Color Mode: RGB or CMYK for color images, Grayscale for black and white
Images accepted: JPG, BMP, PNG, GIF, TIFF and PDF
(Need help on file conversions?)
Image resolution: Minimum 300 dpi
Bleeding: Please allow 1/8" (approx 36 pixels based on a 300dpi image) for bleeding and a further 1/8" for safe area margin inside each side. Read more about image uploads here.
Download templates: Download a playing card template to help guide your image design before uploading files.
Video tutorial:
See how easy it is to use our cards maker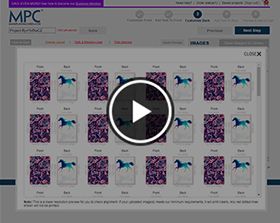 Description:
The Mini European Playing cards is a smaller size deck which is an extra feature to make your cards stand out and unique from the standard sized playing cards. This deck measures at 44m x 67mm, with the option to choose the deck size, you can choose from a deck of 54 up to a deck of 246 cards. We have three finishing options to consider, either the standard finish which features 300gsm casino quality card stock which has an aqueous coating (smooth finish). The premium finish, made from 310gsm casino quality cardstock which has a plastic coating (linen finish), this particular material originates from France and is non transparent when held up against light. Or the Superior finish, the material originating from USA, is made from 100% PVC and has a thickness of 0.325mm making them more durable and longer lasting. Once you have chosen the material for your deck, choose from our designs or you can upload your own playing card design using our online builder and add any text if necessary. You can fully customize your deck by placing your design on both the front and back as well as adding text on both sides. To make sure your designs are printed at the highest quality, please use high resolution images and create your designs with 300 DPI and CMYK color mode and see our bleeding and safe area guide to make sure your designs are printed to the best quality. After your design is finalized, you can preview the final product and order your deck of playing cards. We provide worldwide shipping and your customized Mini European Playing cards will be delivered to you shrink wrapped to ensure protection during delivery.

Makeplayingcards.com is a world renown printing and manufacturing company in the gaming industry, specializing in creating high quality customized playing cards for game companies, retail, education sector, corporate businesses and companies for fun who enjoy playing cards. Our online playing cards builder makes customizing a deck of playing cards with your designs, a simple and time efficient process. We offer a prototyping or full production service so you can bulk order or order just one deck as we have no minimum but still print the deck at full production quality. There is no setup cost for printing and we offer worldwide delivery.

Product code: PC1201E01-01 In Stock
---
Need help?
We are a world renown games printing company with many capabilities. If you have any further customization needs such as hot stamping, foil stamping, embossing, spot UV, custom card sizes etc, please contact our experienced sales and technical team. If you would like us to help you on setting up your product completely, we have just the right service for you. See details.
---
Customer testimonial
"MPC has an amazing customer support team. Eling specifically has been very helpful to me whenever I have had any questions or problems with any orders. I highly recommend. "
Kelly, Fayetteville, NC USA