Custom Transparent Playing Cards
Pick a transparent card design to get started: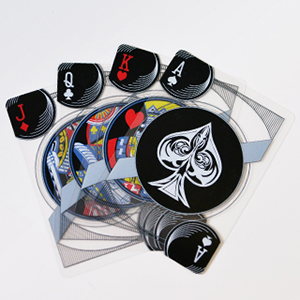 Performance custom transparent playing cards
You may be looking to create clear plastic playing cards printed with your own custom design for your business or for your own use. Making your custom transparent playing cards on MPC is easy with no minimum order quantity required. Simply choose your template and add your design to it and we'll print them onto clear plastic playing cards which are made from top grade clear plastic that allows optimal performance and robustness. We add our in house MPC varnish to the cards to ensure they glide seamlessly for excellent game play or for cardistry.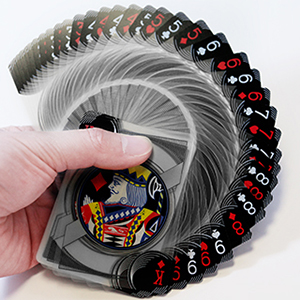 Custom front
Print your company logo and designs onto the card front of the transparent playing cards and we'll have them shipped to you wherever you need them with a quick turnaround time. Simply enter our online cards maker and upload your file. If you want to completely customize the whole deck, see below.
Complete custom front and back
If you need to customize the front and back of transparent playing cards, you will need to contact us for a quote. Watch our tutorial for instructions on how to set up your files if you're choosing the PDF/Ai file submission method. Basically, you will need your own image editing software and create and save individual files to represent each different card face and card back.
Video tutorial
See the simple steps outlined below:
Step 1: Download the template file on our website.
Step 2: Create and apply your artwork for card front on template file.
Step 3: Save the file.
Step 4: Use the same template file and create card back artwork on it.
Step 5: Save the file.
Step 6: Repeat steps 2-5 if you have more than 1 design for card front or card back naming your files in identifiable logical order such as 1.ai, 2.ai, 3.ai, etc, to determine the order your cards will be stacked, 1.ai being the top card face.
Step 7: Submit your files to us.
If you have any questions on making your transparent deck, just let us know.