6" x 4" Photo Size Custom Game Cards
See how we're going more environmentally friendly »
Quantity
Price/deck

No set-up charge

1-5
$13.90
$97.20
$23.15
$87.95
$41.70
$78.70
$32.45
$50.95
$60.20
$69.45
6-29
$11.60
$86.30
$20.50
$78.05
$36.80
$69.80
$28.55
$45.05
$53.30
$61.55
30-49
$9.55
$64.50
$15.40
$58.35
$27.60
$52.20
$21.45
$33.75
$39.90
$46.05
50-99
$7.95
$57.35
$13.65
$51.85
$24.35
$46.35
$18.85
$29.85
$35.35
$40.85
100-249
$6.35
$44.15
$10.95
$40.00
$19.25
$35.85
$15.10
$23.40
$27.55
$31.70
250-499
$4.90
$36.20
$8.90
$32.80
$15.80
$29.40
$12.40
$19.20
$22.60
$26.00
500-999
$3.60
$25.05
$6.40
$22.75
$11.25
$20.45
$8.95
$13.55
$15.85
$18.15
1000-2499
$2.70
$19.25
$4.75
$17.45
$8.45
$15.65
$6.65
$10.25
$12.05
$13.85
2500-4999
$2.00
$15.00
$3.70
$13.60
$6.60
$12.20
$5.20
$8.00
$9.40
$10.80
5000-7499
$1.60
$11.45
$2.90
$10.40
$5.15
$9.35
$4.10
$6.20
$7.25
$8.30
7500-9999
$1.40
$10.35
$2.61
$9.40
$4.65
$8.45
$3.70
$5.60
$6.55
$7.50
10000-12499
$1.25
$9.30
$2.35
$8.45
$4.20
$7.60
$3.35
$5.05
$5.90
$6.75
12500-14999
$1.10
$8.25
$2.10
$7.50
$3.75
$6.75
$3.00
$4.50
$5.25
$6.00
15000+
$0.99
$7.25
$1.90
$6.60
$3.35
$5.95
$2.70
$4.00
$4.65
$5.30
Need 2500+ decks with different designs or a specific customization?
Contact us for quote
Specifications:
Type: Photo sized custom cards
Number of cards per deck: up to 180
Customization: Each card can be customized individually both front and back as required.
Dimensions: 101mm x 152mm, 4" x 6"
Material options: [details]

S27 promotional card stock with blue core (smooth finish)
S30 professional standard card stock with blue core (smooth finish)
S33 superior smooth card stock with black core (smooth finish)
M31 casino quality card stock with black core (linen finish)
P10 100% premium white plastic card stock

Finish: [see details]

MPC game card finish
Gloss finish

Packaging options (per deck): [view]

Shrink-wrap
Plain white tuck box
Plain rigid box
Custom rigid box
Custom tuck box

Delivery packaging: card deck individually shrink-wrapped if no box is chosen. If tuck boxes are chosen, they will be shrink-wrapped.
No minimum order required. Buy 1 deck for

$13.90
Image file tips:
Color Mode: RGB or CMYK for color images, Grayscale for black and white
Images accepted: JPG, BMP, PNG, GIF, TIFF and PDF
(Need help on file conversions?)
Image resolution: Minimum 300 dpi
Bleeding: Please allow 1/8" (approx 36 pixels based on a 300dpi image) for bleeding and a further 1/8" for safe area margin inside each side. Read more about image uploads here.
Download templates: Download a playing card template to help guide your image design before uploading files.
Video tutorial:
See how easy it is to use our cards maker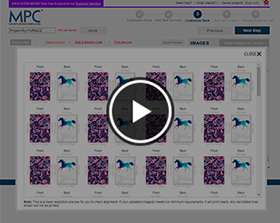 Description:
6" x 4" size game cards is called the photo size game cards as photos are usually 6" x 4" by standard. Now you can customize and print your own 6" x 4" game cards directly on our online card game maker with a number of options such as different number of cards, card stock and packaging available.


Product code: PS002040001 In Stock
Video sample
---
Need help?
We are a world renown games printing company with many capabilities. If you have any further customization needs such as hot stamping, foil stamping, embossing, spot UV, custom card sizes etc, please contact our experienced sales and technical team. If you would like us to help you on setting up your product completely, we have just the right service for you. See details.
---
Customer testimonial
"Very easy to use site..."
Adam, San Jose USA