Custom box for Giant cards
Quantity
Price
1-5
$19.50
$19.50
$19.50
$19.50
$19.50
$19.50
$19.50
$19.50
$19.50
$19.50
6-29
$12.70
$12.70
$12.70
$12.70
$12.70
$12.70
$12.70
$12.70
$12.70
$12.70
30-49
$8.80
$8.80
$8.80
$8.80
$8.80
$8.80
$8.80
$8.80
$8.80
$8.80
50-99
$5.90
$5.90
$5.90
$5.90
$5.90
$5.90
$5.90
$5.90
$5.90
$5.90
100-249
$3.40
$3.40
$3.40
$3.40
$3.40
$3.40
$3.40
$3.40
$3.40
$3.40
250-499
$2.80
$2.80
$2.80
$2.80
$2.80
$2.80
$2.80
$2.80
$2.80
$2.80
500-999
$2.00
$2.00
$2.00
$2.00
$2.00
$2.00
$2.00
$2.00
$2.00
$2.00
1000+
$1.60
$1.60
$1.60
$1.60
$1.60
$1.60
$1.60
$1.60
$1.60
$1.60
Do you need full game set production (2500+)
Contact us for quote
Applies to duplicate prints
See delivery options »
Steps
See detailed instructions here
Add your design to the file on Ai or other image editing software.
Save it and upload your file below.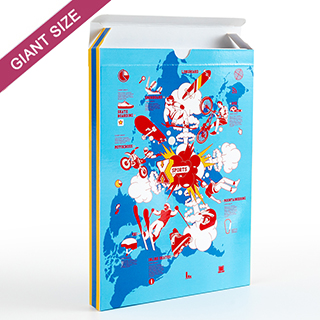 Specifications:
Custom printed tuck box
Fits Giant sized cards (5" x 7")
Materials: 16 pt C1S stock (300gsm C1S art board)
Printing: 4C/0C
Finishing:

T30 UV coated (gloss)
T30 Aqueous (matte)
T25 100% recycled, Aqueous (matte)

Comes flat-packed if ordered without cards
Description:
Put your design on custom tuck box for your Giant size cards. This tuck box is for Giant game cards (5" x 7"). Made with high quality cardboard and printed with precision and sharp colors. Download your tuck box template and start designing. No minimum order required and we ship worldwide.
No minimum order required. Buy 1 deck for $19.50
Product code:
PC12AC26-11
Sample video
See related items:
Other designs
(Total: 157 items)